Making a wireless video link sounds complicated but it's super simple! I will show you how to do it in detail.
As I told you in the video it can be useful for many situations! If you have watched the video construction of my racing drone, you may have noticed that it was exactly the same system.
We start with a small list of the components you will need:
1 x screen
1 x receiver/transmitter
1 x camera
2 x 12V power supply
1 x power button
of the recovery wire
There are several screen sizes, 5 inches, 7 inches, ... Choose your screen according to your needs. If you want a 7 inch screen vas I have, here is a link.
To make the welds cleaner, I advise you to take some heat-shrinkable tubing.
To make it cleaner, I created support boxes. One for the screen, which also allows to turn it at 45°, and one for the camera which allows to turn it in all directions. I leave you the SolidWorks files in addition so that you can modify them as you like.
I removed all the connectors, and soldered the wires directly to the PCB to make it much more compact and clean. If you are not comfortable with soldering, you can simply connect the whole thing with the connectors provided.
If you have chosen the first solution, you will find all the soldering points, ... in my video of construction of the racing drone.
Here is a diagram that will help you connect everything together: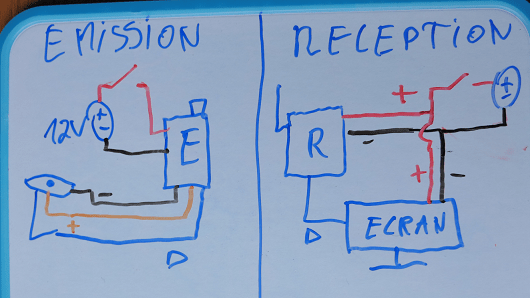 If you have any questions, contact me by email, on my facebook page or on my twitter account.
All that's left is to wish you a good DIY!